Cancer Pain
Overview | Causes | Treatment-related pain | Treatment | Pain Medicine | How Pain Medicine is Taken | Injections
Overview
Pain may be caused by the disease itself or by treatments. Although not all people with cancer will experience pain, it is common in people with cancer. Nearly 30% to 50% of people with cancer experience pain while undergoing treatment, and 70% to 90% of people with advanced cancer experience pain.
About 95% of people suffering from chronic cancer pain can be successfully managed and treated by the drug and non-drug therapies that are now available.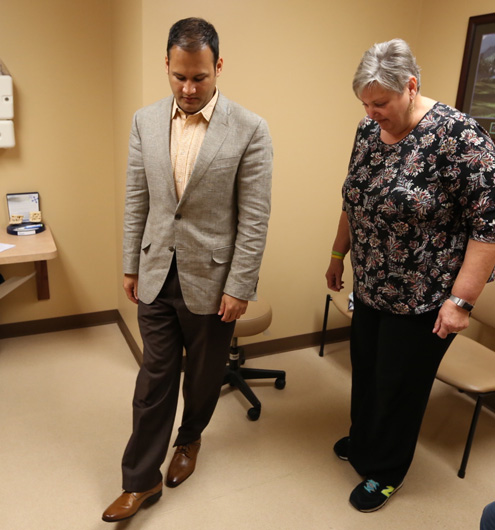 Along with chronic cancer pain, some sufferers experience acute flares of pain when not all pain is controlled by the medication or therapy. This pain, known as breakthrough pain, may also be controlled by medications.
Causes
The most common causes of cancer pain include the disease cancer itself and the treatments used to treat the disease.
The pressure of a tumor on one of the body's organs or on bone or nerves may cause pain. In some instances, cancer can cause pain when blood vessels become obstructed by the tumor.
There are numerous treatments for cancer and some are less than pleasant. However, it is important to note that not all people being treated for cancer experience all of the side effects of these treatments. One person may experience a side effect that another will never experience. Another important item to remember is that many treatment-related side effects may be successfully prevented in some cases, and treated if they occur.
Treatment-related pain
Chemotherapy: Depending on the medication being used, chemotherapy may often cause numerous side effects. Common side effects of chemotherapy include mouth sores, numbness, painful sensations in the feet, legs, fingers, hands and arms, constipation, diarrhea, nausea, vomiting and abdominal cramps. Bone and joint pain may result also.

Surgical options: Post surgical pain may result from surgical treatments for cancer. Procedures such as biopsies, blood draws, lumbar punctures and laser treatments may cause pain. No matter what the cause, most types of cancer pain can be managed with drug and non-drug therapies.
Treatment
It is important to note that cancer pain is very treatable. Nearly 90% of cancer pain patients will find relief using a combination of medications. While cancer pain is usually treated with medicine, other treatments such as injection therapy, radiation therapy, surgery, relaxation, biofeedback and imagery can be used with medicine to give even more pain relief.
Pain Medicine

To treat mild to moderate pain, nonopioids, such as acetaminophen, and (NSAIDs), such as aspirin and ibuprofen, may be used. Many of these medications are available over the counter, while others need a prescription.
To treat moderate to severe pain, opioids, such as morphine, hydromorphone, oxycodone, hydrocodone, codeine, fentanyl and methadone, may be used. These medications are available with prescription. Nonopioids may be partnered with opioids for moderate to severe pain.
Antidepressants, such as amitriptyline, imipramine, doxepin and trazodone, may be used to treat tingling and burning pain. Another option is an antiepileptics, such as gabapentin. A prescription is needed for these medicines.
Cancer pain caused by swelling may be treated by steroids such as prednisone and dexamethasone. A prescription is needed for these medicines.
How Pain Medicine is Taken
Most pain medicine is taken by mouth (orally). Oral medicines are easy to take and usually cost less than other kinds of medicine. If it is difficult for you to swallow or you cannot take a tablet or liquid for some other reason, there are other ways to get these medicines. These include:
Medicine that dissolves in the rectum and is absorbed by the body, known as Rectal suppositories.
Patches that are filled with medicine and placed on the skin, known as transdermal patches.
Injections
Many kinds of injections can give pain relief. Most injections use a tube or needle to place medicine directly into the body.
Types of injection include:
Subcutaneous - medicine is placed just under the skin using a small needle.
Intravenous - medicine is placed directly into a vein through a needle that remains in the vein.
Epidural or intrathecal - medicine is placed directly into the back using a small tube. The majority of these injections give pain relief that lasts for many hours.
Subdermal and intramuscular - more commonly known as "shots," these injections are placed more deeply into the skin or muscle using a needle. These injections are not recommended for long-term cancer pain treatment. Constantly having shots into the skin and muscle can be painful.
[top]
---
Maahir Haque, MD is recognized as a leader in the field of minimally invasive spine surgery. At Spine Group Orlando, Dr. Maahir Haque also provides second opinions for spine surgery and MRI reviews for those with back pain and neck pain. Dr. Haque emphasizes non-surgical options for back pain and neck pain where possible. This can include accessing a back pain specialist with expertise in pain-relieving spinal injections and spine therapists. Spine therapy can include back stretches that can be a future home remedy for back pain or neck pain. If spine surgery is necessary because of a herniated disc, spinal fracture, or spinal stenosis, Dr. Maahir Haque operates through tubular retractors that reduce the size of the incision, lessen blood loss, reduce time in the hospital, speed return to activity with a less painful recovery. This spine surgery expertise enables many patients to have outpatient spine surgery and be home the same day. Spine Group Orlando and Dr. Maahir Haque provides artificial disc replacement in the neck using the Mobi-C disc implant, the first FDA-approved disc for multiple levels in the neck. Prodisc-C is also used for artificial disc replacement in the cervical spine. Dr. Haque is also one of the few spine surgeons in Orlando, Florida to provide lumbar artificial disc replacement using the Prodisc-L artificial disc. Dr. Haque is also referred patients from across Orlando and north central Florida for artificial disc replacement surgery as an alternative to spinal fusion. Accordingly, Dr. Haque's patients travel from across north central Florida, including: Orlando; Jacksonville; Tallahassee; Lakeland; Gainesville; Tampa; Daytona Beach; and Cocoa Beach. The spine center, as a destination for medical tourism for some international patients from Mexico and the Caribbean, can provide recommendations to out-of-town patients on nearby hotels and tourist attractions. Dr. Haque is featured on the national site CentersforArtificialDisc.com as an author on the subject of artificial disc replacement for herniated discs in the neck. The Centers for Artificial Disc web site has content specific to disc replacement options and alternatives to spinal fusion. Click here to visit the Centers for Artificial Disc.