Ergonmics
Sitting at a desk
You may have encountered the term "ergonomics," which is surfacing more and more in the workplace. Ergonomics is a science concerned with designing and arranging things people use in the safest and most efficient manner possible.
Ergonomics is often applied to people who sit at a desk all day. While it seems harmless, sitting for long periods of time can actually cause back pain. It unloads weight on the back, especially if the chair is poorly designed.
[Top]
The basic rules of desk-related ergonomics: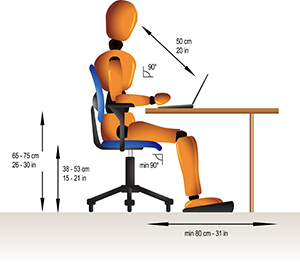 Make sure your chair molds properly to your back. Many employers concerned with the safety of their workers purchase chairs that support the low back. If you are too short or too tall for your back to rest properly in these chairs, or if your company does not offer ergonomically designed chairs, consider bringing in a rolled-up towel. Place it behind your low back to reduce the amount of stress on the back.
Make sure your feet rest flat on the floor. If this is a problem, use a footstool. Proper foot and leg alignment will ease back stress.
While typing on a computer, your forearms and thighs should be parallel to ensure proper shoulder alignment. If necessary, use a pad to support your wrists while typing.
When you type, your neck should not have to crane constantly, as your eyes dart from keyboard to monitor. The monitor should be at eye-level or slightly below eye-level.
Get up and move around every half hour, even if it's just a quick stretch by the side of your desk. Your back enjoys movement, so reward it occasionally.
[Top]
---
Maahir Haque, MD is recognized as a leader in the field of minimally invasive spine surgery. At Spine Group Orlando, Dr. Maahir Haque also provides second opinions for spine surgery and MRI reviews for those with back pain and neck pain. Dr. Haque emphasizes non-surgical options for back pain and neck pain where possible. This can include accessing a back pain specialist with expertise in pain-relieving spinal injections and spine therapists. Spine therapy can include back stretches that can be a future home remedy for back pain or neck pain. If spine surgery is necessary because of a herniated disc, spinal fracture, or spinal stenosis, Dr. Maahir Haque operates through tubular retractors that reduce the size of the incision, lessen blood loss, reduce time in the hospital, speed return to activity with a less painful recovery. This spine surgery expertise enables many patients to have outpatient spine surgery and be home the same day. Spine Group Orlando and Dr. Maahir Haque provides artificial disc replacement in the neck using the Mobi-C disc implant, the first FDA-approved disc for multiple levels in the neck. Prodisc-C is also used for artificial disc replacement in the cervical spine. Dr. Haque is also one of the few spine surgeons in Orlando, Florida to provide lumbar artificial disc replacement using the Prodisc-L artificial disc. Dr. Haque is also referred patients from across Orlando and north central Florida for artificial disc replacement surgery as an alternative to spinal fusion. Accordingly, Dr. Haque's patients travel from across north central Florida, including: Orlando; Jacksonville; Tallahassee; Lakeland; Gainesville; Tampa; Daytona Beach; and Cocoa Beach. The spine center, as a destination for medical tourism for some international patients from Mexico and the Caribbean, can provide recommendations to out-of-town patients on nearby hotels and tourist attractions. Dr. Haque is featured on the national site CentersforArtificialDisc.com as an author on the subject of artificial disc replacement for herniated discs in the neck. The Centers for Artificial Disc web site has content specific to disc replacement options and alternatives to spinal fusion. Click here to visit the Centers for Artificial Disc.