Stenosis Surgery
Overview
Stenosis is a condition that can develop as a person ages, particularly for people over 50. It is characterized by a narrowing of the spinal canal, which places pressure on the spinal cord and nerves, because there is not enough room for them. It resembles placing a ring on your finger. If the finger becomes injured or inflamed, the ring constricts and causes pain. The pain caused by stenosis is typically focused in the low back area and can shoot down the legs and flare up after walking or exercising.
What causes stenosis?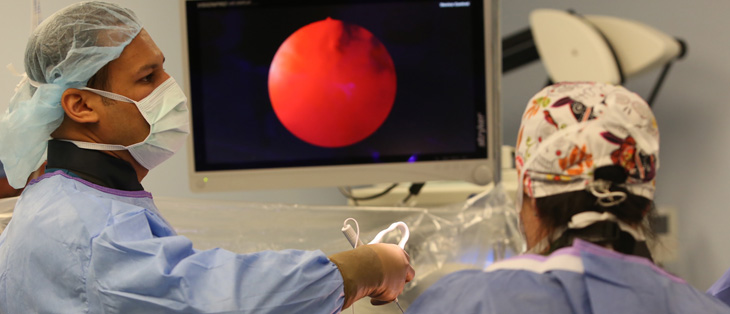 Narrowing of the spinal canal may be genetic. However, the primary contributing factor to the development of stenosis is degenerative disc disease. As the spine undergoes changes in stability, density and size, this can result in less space for and more pressure on the spinal structures.
When one area of the spine is injured, it is more likely that spinal health in other areas will fail. Conditions that may encourage the development of stenosis include scoliosis, osteoarthritis, rheumatoid arthritis, spinal tumors and trauma.

What are the symptoms of stenosis?
Symptoms of stenosis include a deep aching in the low back, buttocks and thigh, and intense numbness or pain in the legs and sometimes the shoulders. Symptoms can be brought on by walking and exercise. If you have stenosis, you may notice that pain is sometimes relieved by sitting or by a position in which the spine is flexed forward and bending over. Pain is worse when you arch the back.
Consequently, people with stenosis may walk with a hunched over posture and find that their pain worsens when bending backward. Severe cases of stenosis will display more serious symptoms such as loss of bowel and bladder function and numbness in a leg.

What causes spinal stenosis?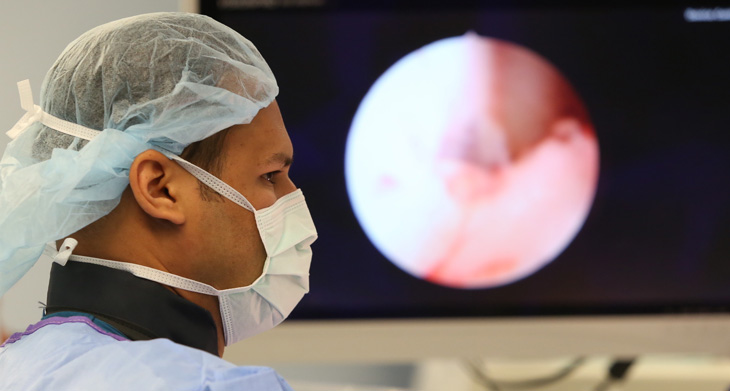 Although degenerating discs are the most common cause of spinal stenosis, spinal tumors, injury, bone disease and other conditions can lead to stenosis as well. For example, primary stenosis results from diseases that are present at birth, while acquired stenosis is typically the result of degeneration in the spine.

How is spinal stenosis relieved?
In many cases, changing posture, specialized therapy and using spinal injections can control the symptoms for a period of time. Stenosis can be treated non-surgically for some, but many cases will require surgery in order to create more space around the nerves to achieve permanent relief of symptoms.
Surgery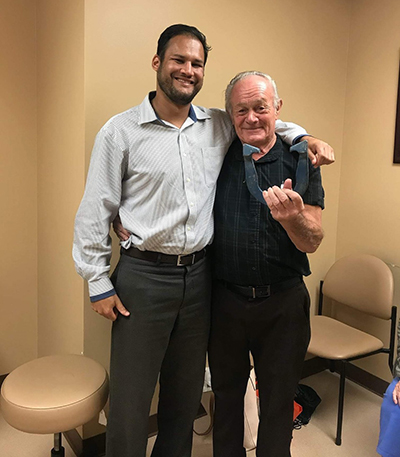 If surgery is required to treat this condition, minimally invasive surgery may be an option. During surgery, the physician performs a laminectomy which removes a piece of the bone at the back of the vertebrae to gain access to the spinal canal.
Specially designed surgery instrumentation is then used to remove bone spurs and the lamina on the side of the approach. This is referred to as a lumbar laminectomy or lumbar decompression. Minimally invasive lumbar laminectomy generally involves smaller incisions, less pain following surgery, and less blood loss than traditional open laminectomy. Recovery is often faster than with a traditional approach.
Many patients with spinal stenosis are advanced in age. Minimally invasive lumbar laminectomy is easier to recover from than a traditional approach.
In most cases, a minimally invasive laminectomy is performed as an outpatient procedure.
---
Maahir Haque, MD is recognized as a leader in the field of minimally invasive spine surgery. At Spine Group Orlando, Dr. Maahir Haque also provides second opinions for spine surgery and MRI reviews for those with back pain and neck pain. Dr. Haque emphasizes non-surgical options for back pain and neck pain where possible. This can include accessing a back pain specialist with expertise in pain-relieving spinal injections and spine therapists. Spine therapy can include back stretches that can be a future home remedy for back pain or neck pain. If spine surgery is necessary because of a herniated disc, spinal fracture, or spinal stenosis, Dr. Maahir Haque operates through tubular retractors that reduce the size of the incision, lessen blood loss, reduce time in the hospital, speed return to activity with a less painful recovery. This spine surgery expertise enables many patients to have outpatient spine surgery and be home the same day. Spine Group Orlando and Dr. Maahir Haque provides artificial disc replacement in the neck using the Mobi-C disc implant, the first FDA-approved disc for multiple levels in the neck. Prodisc-C is also used for artificial disc replacement in the cervical spine. Dr. Haque is also one of the few spine surgeons in Orlando, Florida to provide lumbar artificial disc replacement using the Prodisc-L artificial disc. Dr. Haque is also referred patients from across Orlando and north central Florida for artificial disc replacement surgery as an alternative to spinal fusion. Accordingly, Dr. Haque's patients travel from across north central Florida, including: Orlando; Jacksonville; Tallahassee; Lakeland; Gainesville; Tampa; Daytona Beach; and Cocoa Beach. The spine center, as a destination for medical tourism for some international patients from Mexico and the Caribbean, can provide recommendations to out-of-town patients on nearby hotels and tourist attractions. Dr. Haque is featured on the national site CentersforArtificialDisc.com as an author on the subject of artificial disc replacement for herniated discs in the neck. The Centers for Artificial Disc web site has content specific to disc replacement options and alternatives to spinal fusion. Click here to visit the Centers for Artificial Disc.