Scoliosis Surgery
Flatback Syndrome | Kyphoplasty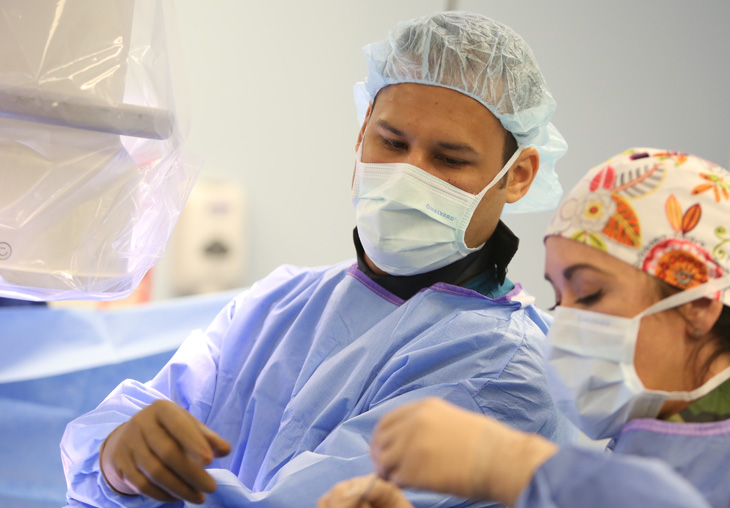 A spine curvature that is greater than 40 degrees will usually require surgery in order to correctly align the spine and fuse the vertebrae. Severe scoliosis in children is very serious since the scoliosis can affect the way the child grows and can restrict the heart and lungs from working properly. Surgery may also be an option for adults diagnosed with scoliosis that suffer from chronic pain. Surgery is performed with an incision in the back and sometimes incisions will be made on the chest if the spine is rigid and stiff. Scoliosis surgery can be very complicated and the surgery usually takes multiple hours.
Scoliosis surgery is based on a two-rod instrumentation system that holds in place the newly aligned spine and fuses the spine in place. Hooks or screws are attached to the vertebrae to provide a platform for the rods to be inserted and the spine is slowly moved into alignment. It is intended that the area of the spine operated on will hopefully fuse together, which will provide the proper support for the spine. The instruments are left inside the body attached to the spine even after the spine properly fuses together. This is done to prevent the patient from having another surgery and provides additional support to the spine.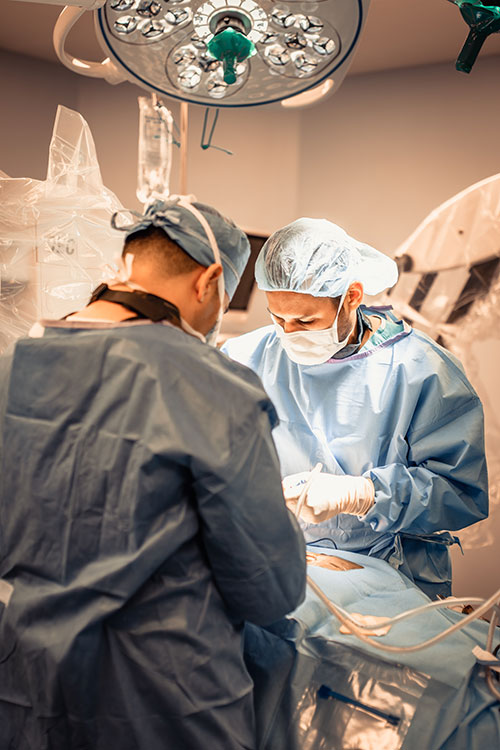 After the surgery, the patient's spine will appear much straighter. Recovery time can last up to a week in the hospital, but mobility will be restricted for many months to allow the spine to properly heal. Minimal scarring if any will appear on the back where the incisions were made. If the patient was wearing a brace for treatment prior to surgery, there is no need to wear the brace after having corrective scoliosis surgery.
Recovery needs to be limited even after the weeklong hospital stay to allow the spine to correctly fuse together. Activity needs to be gradually increased to allow the spine more time to heal. It is important for at least three months after surgery to not do any type of physical activity such as running that puts stress on the spine. After three months the patient can return to most normal activities but rigorous physical activity needs to be avoided to not injure the healing spine. After six months to a year and with a spine specialist completing an evaluation of your spine, the patient may be able to return to all activities.
Prior to surgery, the patient will be informed on what to expect from movement while in bed, getting in and out of bed, eating, controlling pain, how to use drainage tubes, and recovery time. The complications of scoliosis surgery can be significant due to the long and complex nature of the surgery. Types of problems that may develop are infection, bleeding, nerve damage, arthritis, wearing down on spinal discs, and pain. Although it is rare, sometimes a second operation needs to be performed in order to correct the problem. Paralysis is a possibility for any type of operation performed on the spine so it is important to find a highly experienced and accredited spine surgeon that is an expert in this field.
---
Maahir Haque, MD is recognized as a leader in the field of minimally invasive spine surgery. At Spine Group Orlando, Dr. Maahir Haque also provides second opinions for spine surgery and MRI reviews for those with back pain and neck pain. Dr. Haque emphasizes non-surgical options for back pain and neck pain where possible. This can include accessing a back pain specialist with expertise in pain-relieving spinal injections and spine therapists. Spine therapy can include back stretches that can be a future home remedy for back pain or neck pain. If spine surgery is necessary because of a herniated disc, spinal fracture, or spinal stenosis, Dr. Maahir Haque operates through tubular retractors that reduce the size of the incision, lessen blood loss, reduce time in the hospital, speed return to activity with a less painful recovery. This spine surgery expertise enables many patients to have outpatient spine surgery and be home the same day. Spine Group Orlando and Dr. Maahir Haque provides artificial disc replacement in the neck using the Mobi-C disc implant, the first FDA-approved disc for multiple levels in the neck. Prodisc-C is also used for artificial disc replacement in the cervical spine. Dr. Haque is also one of the few spine surgeons in Orlando, Florida to provide lumbar artificial disc replacement using the Prodisc-L artificial disc. Dr. Haque is also referred patients from across Orlando and north central Florida for artificial disc replacement surgery as an alternative to spinal fusion. Accordingly, Dr. Haque's patients travel from across north central Florida, including: Orlando; Jacksonville; Tallahassee; Lakeland; Gainesville; Tampa; Daytona Beach; and Cocoa Beach. The spine center, as a destination for medical tourism for some international patients from Mexico and the Caribbean, can provide recommendations to out-of-town patients on nearby hotels and tourist attractions. Dr. Haque is featured on the national site CentersforArtificialDisc.com as an author on the subject of artificial disc replacement for herniated discs in the neck. The Centers for Artificial Disc web site has content specific to disc replacement options and alternatives to spinal fusion. Click here to visit the Centers for Artificial Disc.