MIS ILIF: Interlaminar Lumbar Instrumented Fusion
Overview
Interlaminar Lumbar Instrumented Fusion, ILIF, is typically used to treat back pain caused by spinal stenosis and spondylolisthesis.
About the Procedure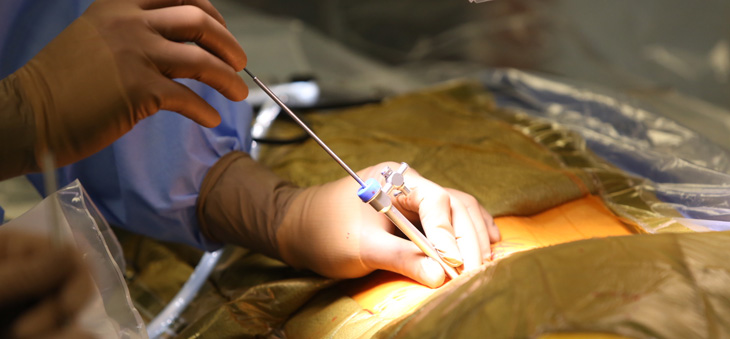 During the ILIF procedure, the surgeon makes a small incision in the lower back and an opening is created through the ligaments. This allows access to the spinous processes (the bone you can feel when you run your hand down your spine). The damaged portion of the disc is removed and allograft bone is placed in the empty space. This helps protect the spinal cord and nerves. A metal implant is inserted to stabilize the spine and secure the spinous processes until the fusion takes place. Morsellated bone is used together with the allograft to fuse the vertebra above and below.
Advantages of using the ILIF procedure over traditional spine surgery can mean a smaller incision, less blood loss, less post-operative pain and quicker return to activity. This procedure is generally performed in an outpatient setting or 23 hour stay.
---
Maahir Haque, MD is recognized as a leader in the field of minimally invasive spine surgery. At Spine Group Orlando, Dr. Maahir Haque also provides second opinions for spine surgery and MRI reviews for those with back pain and neck pain. Dr. Haque emphasizes non-surgical options for back pain and neck pain where possible. This can include accessing a back pain specialist with expertise in pain-relieving spinal injections and spine therapists. Spine therapy can include back stretches that can be a future home remedy for back pain or neck pain. If spine surgery is necessary because of a herniated disc, spinal fracture, or spinal stenosis, Dr. Maahir Haque operates through tubular retractors that reduce the size of the incision, lessen blood loss, reduce time in the hospital, speed return to activity with a less painful recovery. This spine surgery expertise enables many patients to have outpatient spine surgery and be home the same day. Spine Group Orlando and Dr. Maahir Haque provides artificial disc replacement in the neck using the Mobi-C disc implant, the first FDA-approved disc for multiple levels in the neck. Prodisc-C is also used for artificial disc replacement in the cervical spine. Dr. Haque is also one of the few spine surgeons in Orlando, Florida to provide lumbar artificial disc replacement using the Prodisc-L artificial disc. Dr. Haque is also referred patients from across Orlando and north central Florida for artificial disc replacement surgery as an alternative to spinal fusion. Accordingly, Dr. Haque's patients travel from across north central Florida, including: Orlando; Jacksonville; Tallahassee; Lakeland; Gainesville; Tampa; Daytona Beach; and Cocoa Beach. The spine center, as a destination for medical tourism for some international patients from Mexico and the Caribbean, can provide recommendations to out-of-town patients on nearby hotels and tourist attractions. Dr. Haque is featured on the national site CentersforArtificialDisc.com as an author on the subject of artificial disc replacement for herniated discs in the neck. The Centers for Artificial Disc web site has content specific to disc replacement options and alternatives to spinal fusion. Click here to visit the Centers for Artificial Disc.