Neck pain
Overview | Causes | Symptoms | Diagnosis | Treatment | FAQ
Overview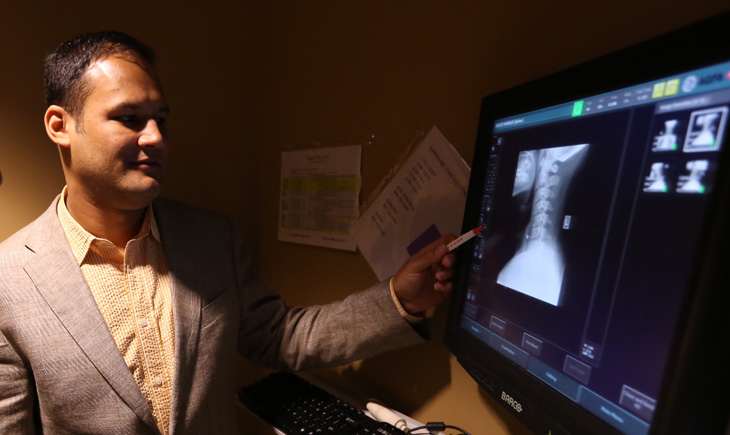 Like back strain, neck strain is an irritation to tendons, muscles and ligaments in the upper back and neck area. Whiplash is characterized by a collection of symptoms that occur following damage to the neck, usually because of sudden extension and flexion, such as in a car accident.
[top]
Causes
Sometimes neck strain can be brought on by an abrupt movement by the neck, such as whiplash.
[top]
Symptoms
Symptoms such as neck pain may be present directly after the injury or may be delayed for several days. In addition to neck pain, other symptoms may include neck stiffness, injuries to the muscles and ligaments (myofascial injuries), headache, dizziness, abnormal sensations such as burning or prickling (paresthesias), or shoulder or back pain. In addition, some people experience cognitive, somatic, or psychological conditions such as memory loss, concentration impairment, nervousness/irritability, sleep disturbances, fatigue or depression.
[top]
Diagnosis
Outlined below are some of the diagnostic tools that your physician may use to gain insight into your condition and determine the best treatment plan for your condition.
Medical history: Conducting a detailed medical history helps the doctor better understand the possible causes of your back and neck pain which can help outline the most appropriate treatment.
Physical exam: During the physical exam, your physician will try to pinpoint the source of pain. Simple tests for flexibility and muscle strength may also be conducted.
X-rays are usually the first step in diagnostic testing methods. X-rays show bones and the space between bones. They are of limited value, however, since they do not show muscles and ligaments.
MRI (magnetic resonance imaging) uses a magnetic field and radio waves to generate highly detailed pictures of the inside of your body. Since X-rays only show bones, MRIs are needed to visualize soft tissues like discs in the spine. This type of imaging is very safe and usually pain-free.
CT scan/myelogram: A CT scan is similar to an MRI in that it provides diagnostic information about the internal structures of the spine. A myelogram is used to diagnose a bulging disc, tumor, or changes in the bones surrounding the spinal cord or nerves. A local anesthetic is injected into the low back to numb the area. A lumbar puncture (spinal tap) is then performed. A dye is injected into the spinal canal to reveal where problems lie.
Electrodiagnostics: Electrical testing of the nerves and spinal cord may be performed as part of a diagnostic workup. These tests, called electromyography (EMG) or somato sensory evoked potentials (SSEP), assist your doctor in understanding how your nerves or spinal cord are affected by your condition.
Bone scan: Bone imaging is used to detect infection, malignancy, fractures and arthritis in any part of the skeleton. Bone scans are also used for finding lesions for biopsy or excision.
Discography is used to determine the internal structure of a disc. It is performed by using a local anesthetic and injecting a dye into the disc under X-ray guidance. An X-ray and CT scan are performed to view the disc composition to determine if its structure is normal or abnormal. In addition to the disc appearance, your doctor will note any pain associated with this injection. The benefit of a discogram is that it enables the physician to confirm the disc level that is causing your pain. This ensures that surgery will be more successful and reduces the risk of operating on the wrong disc.
Injections: Pain-relieving injections can relieve back pain and give the physician important information about your problem, as well as provide a bridge therapy.
[top]
Treatment
Treatment for individuals with neck strain may include pain medications, nonsteroidal anti-inflammatory drugs, antidepressants, muscle relaxants, and a cervical collar (usually worn for two to three weeks). Range of motion exercises, physical therapy, and cervical traction may also be prescribed. Supplemental heat application may relieve muscle tension.
Generally, prognosis for individuals with neck strain is good. The pain clears within a few days or weeks. Most patients recover within 3 months after the injury, however, some may continue to have residual neck pain and headaches.
[top]
FAQs
When is neck strain serious?
As with back pain, any time symptoms do not improve after three days, it's a good idea to see a spine specialist. Also, red flag symptoms like pain or numbness radiating into an arm, especially down into the fingers, are emergency symptoms and should be seen by a spine specialist within 48 hours, or you risk permanent damage.
See our exercise library for helpful neck exercises.
How can I prevent neck strain?
You can minimize your risk of experiencing neck strain by strengthening the muscles and ligaments in your neck, avoiding contact sports, and driving cautiously.
[top]
---
Maahir Haque, MD is recognized as a leader in the field of minimally invasive spine surgery. At Spine Group Orlando, Dr. Maahir Haque also provides second opinions for spine surgery and MRI reviews for those with back pain and neck pain. Dr. Haque emphasizes non-surgical options for back pain and neck pain where possible. This can include accessing a back pain specialist with expertise in pain-relieving spinal injections and spine therapists. Spine therapy can include back stretches that can be a future home remedy for back pain or neck pain. If spine surgery is necessary because of a herniated disc, spinal fracture, or spinal stenosis, Dr. Maahir Haque operates through tubular retractors that reduce the size of the incision, lessen blood loss, reduce time in the hospital, speed return to activity with a less painful recovery. This spine surgery expertise enables many patients to have outpatient spine surgery and be home the same day. Spine Group Orlando and Dr. Maahir Haque provides artificial disc replacement in the neck using the Mobi-C disc implant, the first FDA-approved disc for multiple levels in the neck. Prodisc-C is also used for artificial disc replacement in the cervical spine. Dr. Haque is also one of the few spine surgeons in Orlando, Florida to provide lumbar artificial disc replacement using the Prodisc-L artificial disc. Dr. Haque is also referred patients from across Orlando and north central Florida for artificial disc replacement surgery as an alternative to spinal fusion. Accordingly, Dr. Haque's patients travel from across north central Florida, including: Orlando; Jacksonville; Tallahassee; Lakeland; Gainesville; Tampa; Daytona Beach; and Cocoa Beach. The spine center, as a destination for medical tourism for some international patients from Mexico and the Caribbean, can provide recommendations to out-of-town patients on nearby hotels and tourist attractions. Dr. Haque is featured on the national site CentersforArtificialDisc.com as an author on the subject of artificial disc replacement for herniated discs in the neck. The Centers for Artificial Disc web site has content specific to disc replacement options and alternatives to spinal fusion. Click here to visit the Centers for Artificial Disc.