Sacro-Iliac Joint Fusion
Some researchers estimate that 25 percent of cases of low back pain may be linked to the sacrum and it's sacro-iliac joints (SI joints). In particular, the SI Joint is believed to be one of the main causes of Axial Low Back Pain, that is, pain that is limited to the low back, and does not usually involve radiating pain or numbness into a leg.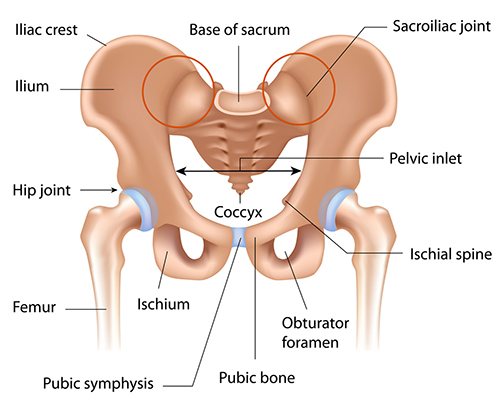 The SI joint is located at the bottom of spine between the sacrum and the ilium of the pelvis, which are connected by ligaments. The sacrum supports the spine and acts as a shock absorber, cushioning the weight of the body onto the legs.
When a person feels a pain in their low back when they stand up from a chair and place weight on a specific leg, it could be caused by the SI Joint. SI joint pain can be caused by falling down, or from repetitive movement, such as with long distance runners. Arthritis can also be a cause problems with an SI joint.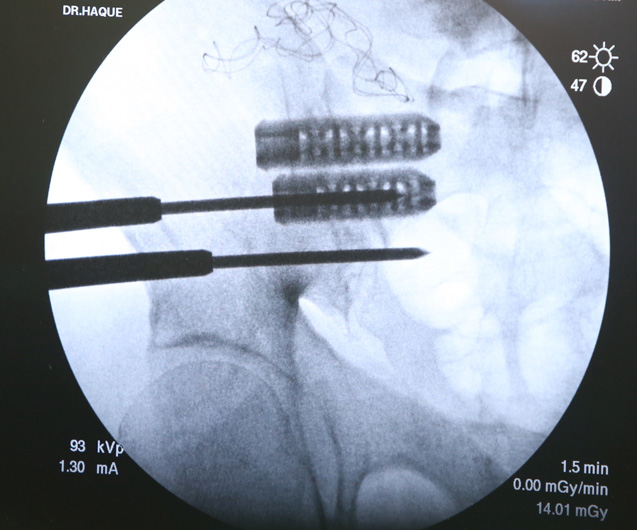 If spine surgery is needed for sacroiliac joint pain, the surgeons use the Medtronic Rialto SI Joint instrumentation to create a SI Joint Fusion to stabilize the SI joint and relieve the symptoms of SI joint pain and low back pain.
An SI joint fusion is performed through a small incision about an inch long by the side of patient's buttock. During the procedure, fluoroscopy provides the surgeon with live imaging. Typically two cylindrical threaded implants are inserted, depending on the patients body size.
The key benefits of the Rialto system is that it is less invasive than traditional SI joint surgery. The system uses a much small incision size and no bone grafting is needed as in traditional SI fusion.
Do you have SI Joint pain?
Symptoms of SI Joint pain include:
Low back pain that is triggered when you stand up from a chair
Uncomfortable sitting, unable to sit for long periods
Interrupted sleep due to low back pain
Hip or groin pain.
Feeling of leg instability
You may be a candidate for surgery if you have exhausted other non-surgical treatment options for axial low back pain, including options like physical therapy, chiropractic, medications, or spinal injections for at least 6 months.
---
Maahir Haque, MD is recognized as a leader in the field of minimally invasive spine surgery. At Spine Group Orlando, Dr. Maahir Haque also provides second opinions for spine surgery and MRI reviews for those with back pain and neck pain. Dr. Haque emphasizes non-surgical options for back pain and neck pain where possible. This can include accessing a back pain specialist with expertise in pain-relieving spinal injections and spine therapists. Spine therapy can include back stretches that can be a future home remedy for back pain or neck pain. If spine surgery is necessary because of a herniated disc, spinal fracture, or spinal stenosis, Dr. Maahir Haque operates through tubular retractors that reduce the size of the incision, lessen blood loss, reduce time in the hospital, speed return to activity with a less painful recovery. This spine surgery expertise enables many patients to have outpatient spine surgery and be home the same day. Spine Group Orlando and Dr. Maahir Haque provides artificial disc replacement in the neck using the Mobi-C disc implant, the first FDA-approved disc for multiple levels in the neck. Prodisc-C is also used for artificial disc replacement in the cervical spine. Dr. Haque is also one of the few spine surgeons in Orlando, Florida to provide lumbar artificial disc replacement using the Prodisc-L artificial disc. Dr. Haque is also referred patients from across Orlando and north central Florida for artificial disc replacement surgery as an alternative to spinal fusion. Accordingly, Dr. Haque's patients travel from across north central Florida, including: Orlando; Jacksonville; Tallahassee; Lakeland; Gainesville; Tampa; Daytona Beach; and Cocoa Beach. The spine center, as a destination for medical tourism for some international patients from Mexico and the Caribbean, can provide recommendations to out-of-town patients on nearby hotels and tourist attractions. Dr. Haque is featured on the national site CentersforArtificialDisc.com as an author on the subject of artificial disc replacement for herniated discs in the neck. The Centers for Artificial Disc web site has content specific to disc replacement options and alternatives to spinal fusion. Click here to visit the Centers for Artificial Disc.